WATER HEATER REPAIR IN DUBAI
WATER HEATER REPAIR IN DUBAI
Hplus exists the only one who is offering Water Heater repair in Dubai  24/7 a year all across Dubai. We also install, repair and provide you with a wide range of different water heater repair Dubai. We emphasis to make you feel confident that your water heater will be installed or repair in a proficient manner. If you grant us an opportunity for water heater installation dubai , we can also take care of mandatory repairs to fix your problem . 
It also compels us to propose you find the favorable water heater for your premises and we constantly aim to provide our respected clients with an honest and devoted advisor to make sure that they take the right decision.
A vast range of water heater solutions including instant and classic water heaters and boilers. We also deliver and install water heaters, no matter if you bought it from us or a different supplier.
The water heater range from 10 liters up to 100 liters and comes in numerous specifications, models, molds and sizes.
The bestselling water heater brands in U.A.E is Ariston, Performance and longevity of their products gained the trust of customers over the past years.
50 & 80 liters capacity water heater are the most popular type of heaters in U.A.E
Water heater repairing services are often required, they remain in use throughout winters and slight malfunction can cause plenty of problems for you. It is satisfactorily to be in touch with a water heater repairing service so that you retain someone on hand to fix the issue quickly if something goes wrong.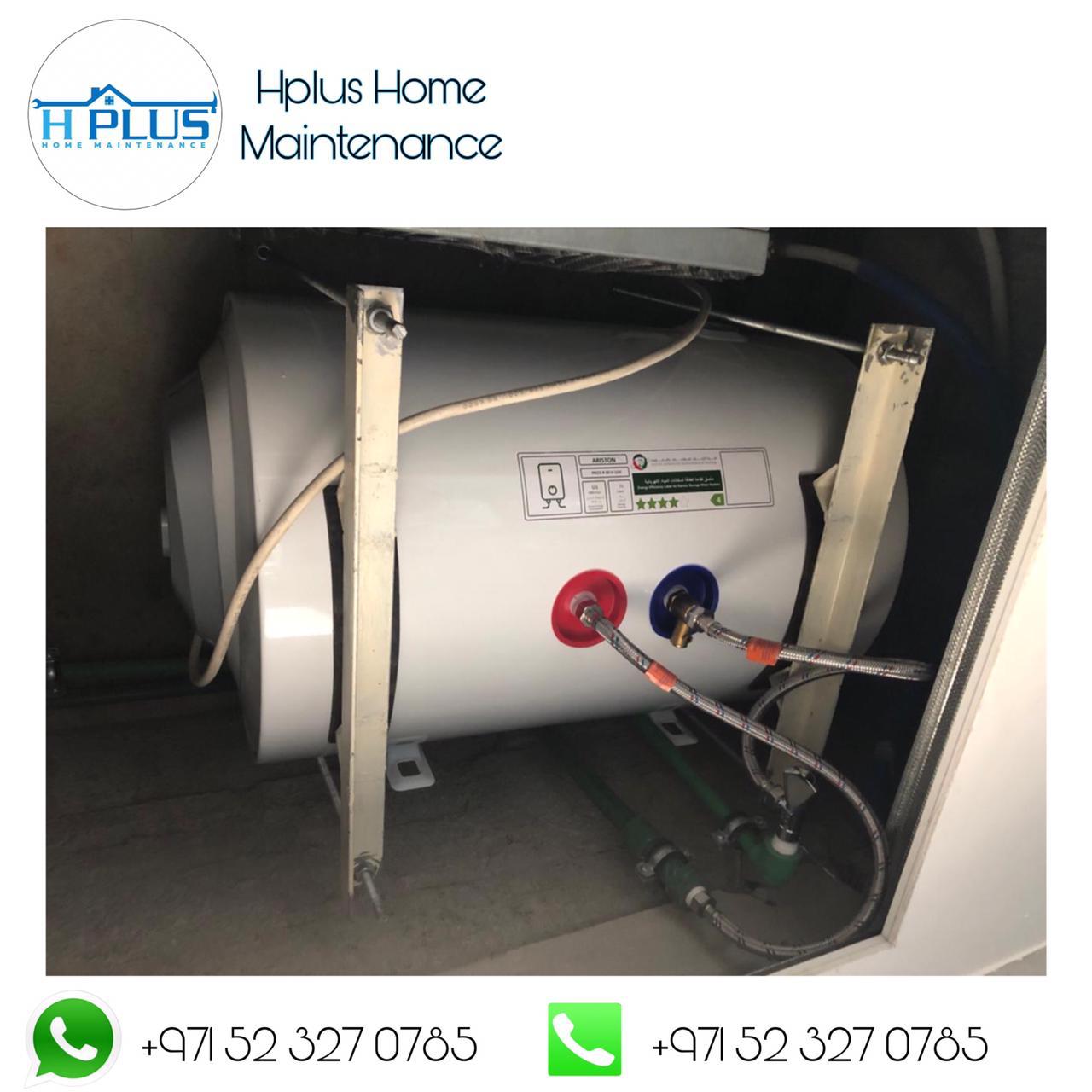 Water Heater Replacement Dubai
Hplus squad comprises of well-equipped and professional technicians who deliver round-the-clock water heater services, water pump repair Dubai, and tank cleaning services. After receiving the call we usually launch our team within no time to fix the issue. if required you can also place an emergency call in that case our team will arrive at your doorstep even quicker.
Always keep in mind that a malfunctioning water heater has the potential risk, it is advised that you do regular maintenance checks to avoid any calamity. Furthermore, water heaters draw a lot of electricity with shocking bills. you need to have your water heater monitored by a specialist who can optimize the settings to maximize the heating proficiency and minimize the bills. We look forward to providing you with our services. Have a problem? Then don't hesitate to Call: 052-3270785